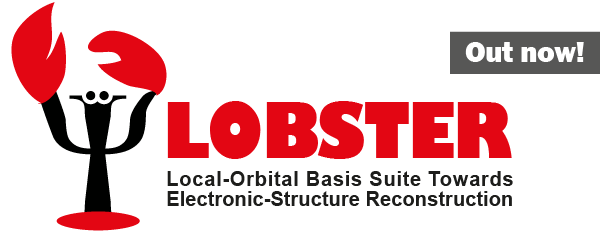 LOBSTER is out, and you can get it right here!
LOBSTER allows you to calculate projected COHP and COOP curves, and also reliable atom-projected DOS,
directly
based on plane-wave DFT output as given by the VASP or ABINIT or Quantum ESPRESSO packages.
After downloading the package, please take a few minutes to read the instructions in the manual; everything is detailed there. We have also packed a few example files for an easy start. Should there be any questions or problems, do not hesitate to contact us via
mail (at) cohp (dot) de
.
If you would like to visualize your LOBSTER results, we recommend to use wxDragon. You can download the public version for Windows and Linux systems here:
wxDragon (Windows)
wxDragon (Linux)
IMPORTANT: if you would like to be informed about future releases, please also consider registration at LOBSTER's mailing list by sending a short message (using the subject "subscribe") to cohp-request (at) lists (dot) rwth-aachen (dot) de. Thank you.
Current Version
LOBSTER 4.1.0 (Linux, Mac OS X, Windows) (2021-08-11) • 2021-08-11
Older versions
LOBSTER LOBSTER 4.0.0 (Linux, Mac OS X, Windows)
(2020-06-15)